This month is the Tulsa Symphony's performance of Johannes Brahms' A German Requiem with the Tulsa Oratorio Chorus at the Tulsa Performing Arts Center. This will once again be broadcast on KWTU Public Radio Tulsa in about a month. This is a amazing piece of music and I am happy to be spending the next couple of weeks editing, mixing and mastering one of the most beautiful and powerful pieces of music ever composed.
Microphone set up is:
Main pair – 2x Neumann TLM 170R
Outriggers – 2x Neumann KM184s
Orchestra spots – 3x Neuman KM184s
House mics – 2x Neumann KM184s
Chorus Mics – 2x AKG C414-BULS and 2x C414-XLII
Soloist spot mic – Audio-Technica AT4050
Fourteen inputs total for this performance.
Protools HDX with Focusrite Red 4Pre and Red HD32R running on Dante with a Yamaha CL5 and a pair of RIO 3224D i/o racks.
The dress rehearsal on stage at the Chapman Music Hall at the Tulsa Performing Arts Center; with full symphony, chorus and soloists.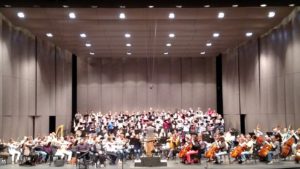 Main pair of Neuman TLM170R mics and the Neuman KM184 house mic in the background.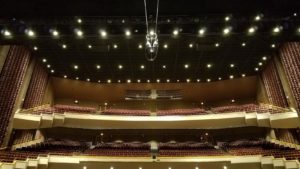 Sometimes you have to compromise your mic position because of the needs of the live performance. This staging was set up to provide the horns a bigger area behind them for reflection and the extra seats for the chorus did not require a full row.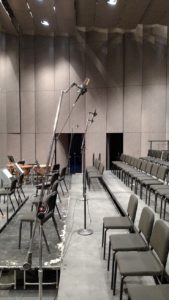 New this year, we have added a full digital audio workstation to the in house arsenal of audio gear at the Tulsa PAC. A new Mac Pro enclosed in a Sonnet Tech xMac Pro Server Thunderbolt expansion chassis houses our Protools HDX card, and two 1 TB solid state drives, one 1.5 TB hard disk drive, and two external USB 3.0 hard disk drives, all 7200 rpm. Counting the Mac Pro SSD, I have 6.5 terabytes of online storage in this set up. This rack also houses a Focusrite Red 4Pre and a RedNet HD32R Dante to Protools HD bridge which give me access to recording all 64 channels on the Dante network that our Yamaha CL5 and dual RIO 3224D i/o racks offer. We also use this DAW for playback with QLab 4 by Figure 53.
Many of my initial recordings will start out on this machine. But I will transition to my personal Protools system at home for editing, mixing and mastering, which is good because I have many more and better plugins than the building does.  🙂